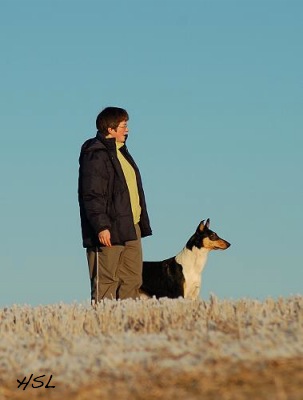 Our "doggy family" lives in the southeastern part of Norway and is made up of a few Smooth Collies and their owner Berit Klausen. In our spare time we like to engage in activities like hiking, obedience training, field work and sometimes a little agility for fun. I have also done a one year clicker training instructor's course. Dogs have been an important part of my life since the age of twelve. I've had Border collies, a German shepherd, a husky/pointer mix, and the last fourteen years my current breed the Smooth Collie.

My kennel prefix is "Alertness". The first litter of puppies was registered under this prefix in 2011. My aim is to produce healthy and agile Smooth Collies which are level-headed and with a friendly and playful disposition.

What to expect when buying a puppy from Alertness

My favourite training method is clicker training. You may read more about it here


Det er ikke uten grunn at denne hjemmesiden handler om hund. Hund er fritidsinteresse nummer en i denne familien som består av et knippe korthårscollies og deres eier Berit Klausen. På fritiden trener vi litt lydighet, rundering og innimellom litt agility bare for moro. Jeg er også utdannet NKK trinn I instruktør og innehar den ettårige klikkertrener utdannelsen fra Canis. Jeg har hatt hund siden jeg var tolv år gammel; to border collies, en schæferhund, en husky/pointerblanding, og de fjorten siste årene min nåværende rase korthårscollien.

Jeg har også et godkjent kennelnavn, Alertness. Det første kullet under dette kennelnavnet ble født i 2011. Målet med mitt oppdrett er å få fram friske og funksjonelt bygde korthårscollies som er trygge og stabile med et vennlig og lekent gemytt. Her i huset foregår all trening etter klikkermetoden. Det er fordi det både er en effektiv og morsom måte å trene hund på.

Hva kan du forvente hvis du velger en Alertness-valp?